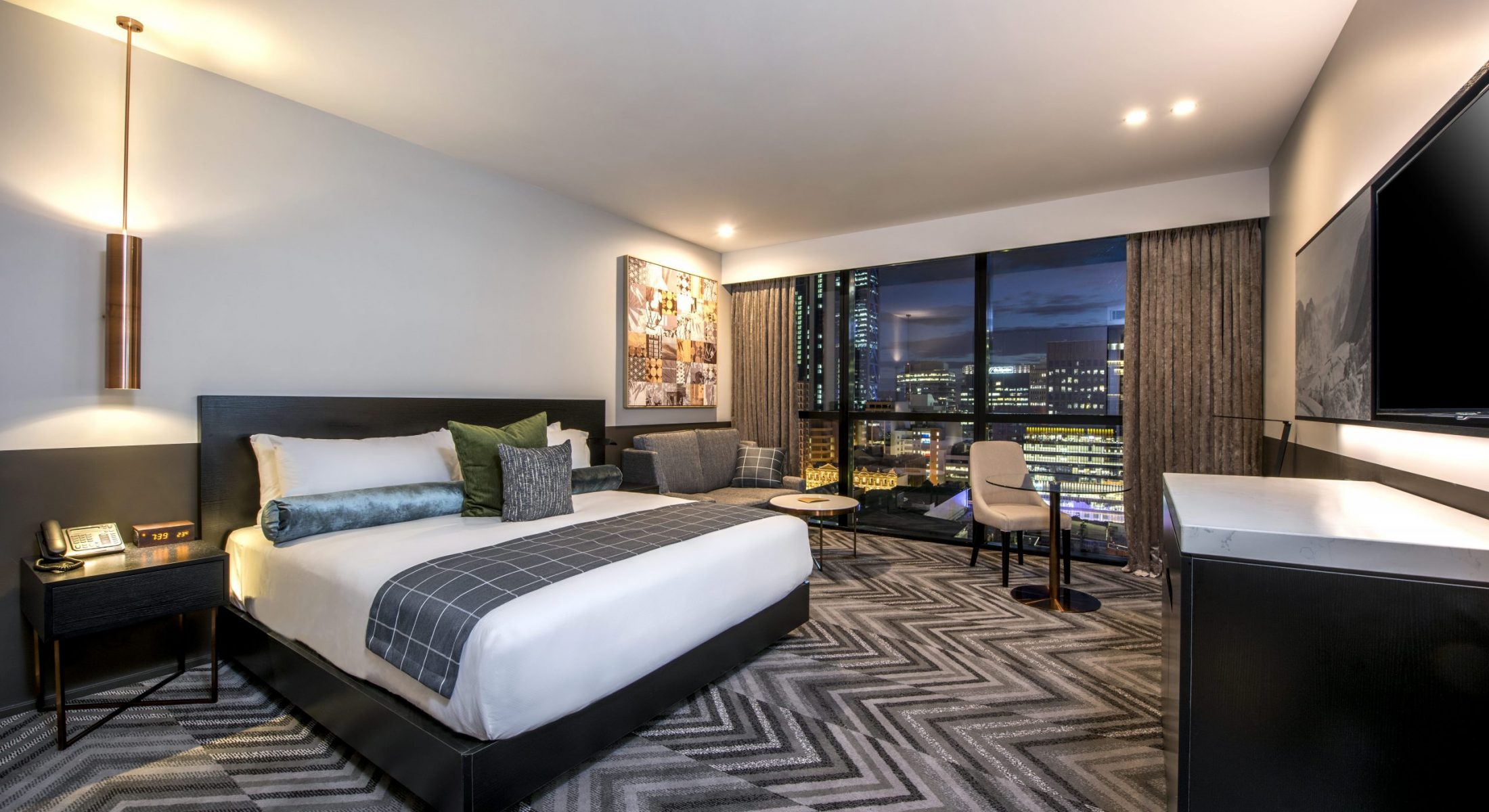 High Street Holding strengthens partnership with EVENT Hotels
Ventures
Event Hospitality & Entertainment (EVENT) has entered into an agreement to manage two new hotels with High Street Holdings: Rydges Perth King Square and Rydges North Sydney. These hotels join Brisbane's Kennigo Hotel, also owned by High Street Holdings and managed by EVENT, and will sit alongside EVENT's current stable of hotels and resorts across Australia and New Zealand that includes Rydges, QT, Atura and the Independent Collection by EVENT.
Currently Peppers King Square, the Rydges brand will return to Perth with the 120 room Peppers CBD property rebranded as Rydges Perth King Square. The six-year-old property is situated in the busy King Square corporate precinct and near the RAC Arena and Perth city centre. In addition, the hotel features contemporary furnishings, King Beds, air conditioning, WiFi, Nespresso machines and gourmet tea facilities as well as a gym, restaurant, bar and conference facilities.
High Street Holdings have also awarded EVENT management of Rydges North Sydney following their recent purchase of the property from EVENT. The hotel will be rebranded "The Miller Hotel" and will undertake a full refurbishment of its rooms, conference facilities, bar, restaurant and public areas joining the Independent Collection by EVENT (ICBE) under the Classic Tier.

These hotels join the Kennigo Hotel, which was acquired as the Mantra Richmont by High Street Holdings approximately 12 months ago, and rebranded the Kennigo under the Independent Collection by EVENT. Located in Brisbane's Fortitude Valley, the Kennigo offers sweeping city views and comfortable accommodation with function and conferencing facilities onsite.

Daniel Yip from High Street Holdings said "As we continue to grow our footprint across Australia, we look forward to extending our relationship with EVENT to represent our properties and deliver strong results. We value EVENT's personalised local approach to hotel management which has delivered an impressive start with the Kennigo Hotel, Brisbane."

Norman Arundel, Event Hospitality and Entertainment's Director of Hotel and Resorts Operations said, "EVENT is delighted to further develop the partnership with High Street Holdings and welcome these outstanding properties to our growing portfolio of hotels and resorts. We look forward to working with the incredible local teams to amplify these hotels' and provide our guests the uniquely local hotel experience they've come to expect from our brands."
Under the management of EVENT, all three properties will be full participants in EVENT's Priority Guest Rewards loyalty program and all EVENT distribution channels.
---
ABOUT EVENT HOSPITALITY & ENTERTAINMENT
Event Hospitality & Entertainment Limited (EVENT) is a leading entertainment, hospitality and leisure company. Founded in 1910 and headquartered in Sydney, EVENT is at the forefront of the experience economy and delivers millions of experiences annually.
EVENT owns the largest cinema circuits in Australia, New Zealand and Germany under the brands Event Cinemas, Birch Carroll and Coyle, Cinestar, Greater Union and Moonlight Cinema.
The Group also own and operate more than 70 hotels including Rydges Hotels, QT Hotels & Resorts, Atura Hotels and JUCY Snooze. In 2021 the Group launched the Independent Collection by EVENT, a collection of independently branded hotels under management and affiliate agreements.
In the leisure space, EVENT operate Australia's number one ski resort, Thredbo Alpine Resort and one of Australia's oldest theatres, the State Theatre. The Company also owns a substantial property portfolio.
EVENT is committed to protecting and giving back to the communities in which it operates through a focus on sustainability, fundraising and diversity.
EVENT listed on the Australian Securities Exchange (ASX) and trades under the ASX code of EVT.